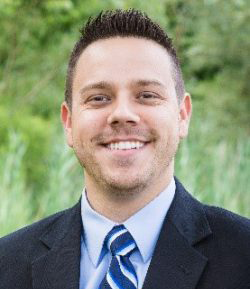 Don Wilkerson is an actively engaged educational advocate within the Ann Arbor community.  He understands the foundational power education holds in shaping one's future and has worked to ensure all have access to an excellent education.  Don's dedication to youth education has included serving in various roles, such as, Treasurer/VP of Ann Arbor PTO Council, President/VP of A2STEAM at Northside Elementary PTO through the transition of a traditional elementary to K-8 program, Member of AAPS Superintendent's Blue Ribbon Advisory Committee, Member of Citizen's Millage Campaign advocating for educational funding, Director of Ann Arbor Cross Country Kids, Member of A2STEAM Principal Selection Committee, while also being an avid classroom volunteer, and sports/Science Olympiad coach and mentor.
Don has two children in the Ann Arbor Public Schools (daughter in 8th grade and son in 6th grade), who currently attend Clague Middle School.  Both of Don's children enjoy playing sports, including travel hockey, softball/baseball, volleyball, field hockey, and basketball.  When not at work, you can usually find Don at the local ice rink or another sports field.  He enjoys spending time with his family and being outdoors all year long.
Professionally, Don is a Manager at PricewaterhouseCoopers, LLP (PwC) within the Risk Assurance Line of Service, with experience that spans both the Process Assurance and the Internal Audit, Compliance and Risk Management Solutions practices.  He leads engagements that bring together best-in-class controls, systems, processes, and technical capabilities, combined with deep risk, regulatory, audit, and sector expertise, in order to enhance end-to-end business and IT processes, helping clients make better business decisions, improve operational performance, and build trust with their clients and broader stakeholders.  Don is a Certified Information Systems Auditor (CISA), and a member of the Institute of Internal Auditors (IIA) and the Information Systems Audit and Control Association (ISACA).  He has his Master of Accounting and Bachelor of Business from the Stephen M. Ross School of Business at the University of Michigan.