Dyslexia Advocacy Coalition of Michigan
A2IDEAS has established DAC-MI, an informal advocacy coalition with a focus on meeting the needs of our community for students with dyslexia. A2IDEAS will serve as the lead agency and facilitator for coalition activities.
"For those of us for whom words sing, sentences paint pictures, and paragraphs create panoramic views of the world, the inability to identify and process words with ease would be crippling."
~ Judge Sonya Sotomayor ~
Bartlett v. New York State Bd. of Law Examiners, 970 F.Supp. 1094
(S.D.N.Y. 1997)
Connect with DAC-MI efforts by joining our closed Facebook group.        Search: DAC-MI
Join our Dyslexia Advocacy Coalition of Michigan group.                          Subscribe: DAC-MI groups.io
FORUM: Identifying Opportunity Alongside Disability
A2IDEAS is dedicated to access and opportunity toward inclusive education through our support of individuals with disabilities and their families through advocacy.
As part of these efforts, we sponsor and provide ongoing Education & Outreach centered on the needs of families in our community to broaden awareness, understanding, and engagement.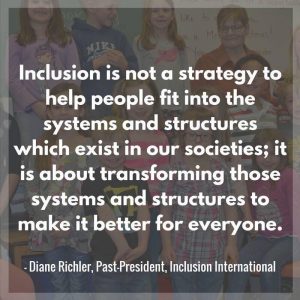 (Image credit @mccartpm)
Learn more about our recent efforts!
Intelligent Lives: Opening Doors to Inclusive Pathways
Film screening & Community Discussion